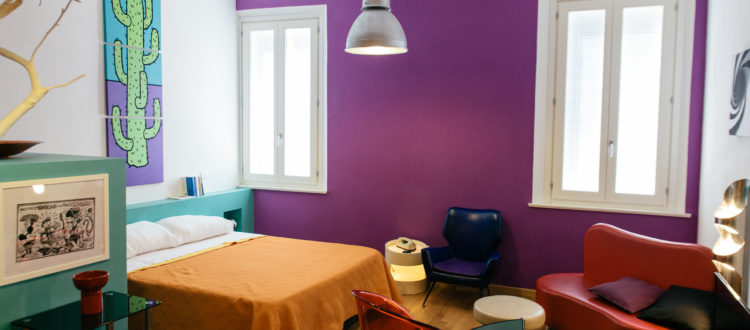 Suite

2 Guest

1 Space

1 Double Bed

Free

1° Floor
It is a colorful studio apartment decorated with 70s' vintage furniture that reflects the time and world of Benito Jacovitti (1923-1997). Known as a great and prolific Italian cartoonist, one of his famous comics characters is Cocco Bill – the star of a parody Western comic book. Graphics and images are the essence of the interior decoration.
Apartment includes :
·         A double bed in a large room which serves as the living, dining and bedroom. Indeed, the room also contains tables, a sofa, an armchair, board games and a library. You can relax and read books, some of which are hard to find on the market !
·         A bathroom embellished with vintage furniture, and an equipped kitchen where you can cook.
Hairdryer, T.V., free Wi-Fi, books and magazines are also included. Toothbrushes and slippers are available upon request. This suite can accommodate 2 guests. Perfect for couples, friends, or lonely travelers.
Guest : 2
Bathroom : 1
Bedroom : 1
Bed : 1 Double
Kitchen : 1
Check In : 03:00 – 08:00 PM
Check Out : 08:00 – 11.00 AM
Wifi : Free
Lift : Yes
Tv: Yes
Conditionated Air : Yes
Parking : Free City Pass
Towels Set : Yes
Courtesy Set : Yes
Hairdryer: Yes
Single Use : €70 / night
Double Use : €100 / night
Tourist Tax : €0,50 night / guest
Photo
Information
Adress : Via Castelmaraldo 65, 41121 Modena (IT)
Phone : +39 320.3010089        +39 059.8751799
info@fonticolo.com