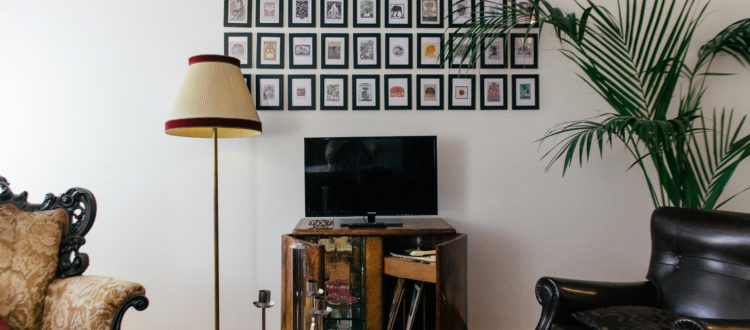 Suite

2 Guest

1 Space

1 Double bed

Free

2° floor
It is an Art Deco embellished studio apartment. The decoration is  based on the idea of a redundant aestheticism. Its colors and furniture depict the two themes of « literature » and «word ». The Art Deco style combines the forms and material opulence with the importance of details. It was typical of the 1920s and 1930s, times in which the pleasant aspect of the superfluous was not neglected. The favorite car of the Italian writer and nationalist Gabriele D'ANNUNZIO (1863-1968) –  an 1936 cabriolet « Isotta Fraschini Tipo 8B » – best represents the sumptuous  climate of this time.
Apartment includes :
·         A double bed in a large room which serves as the living, dining and bedroom. Indeed, the room contains tables, two large armchairs, antique furniture, thematic and classic books. The whole place is devoted to relaxation, literature, reflection and conversation. The only transgression is a 32-inch T.V. !
·         A furnished bathroom and an equipped kitchen where you can cook.
Hairdryer, T.V., free Wi-Fi, books and magazines are also included. Toothbrushes and slippers are available upon request. This suite can accommodate 2 guests. Perfect for couples, friends, or lonely travelers.
Guest : 2
Bathroom : 1
Bedroom : 1
Bed : 1 Double                                                                                                                                                                                                                                                                               
Kitchen : 1
Check In : 03:00 – 08:00 PM
Check Out : 08:00 – 11.00 AM
Wifi : Free
Lift : Yes
Tv: Yes
Conditionated Air : Yes
Parking : Free City Pass 
Towels Set : Yes
Courtesy Set : Yes
Hairdryer: Yes
Single Use : €70 / night
Double Use : €100 / night
Tourist Tax : €0,50 night / guest
Photo
Information
Adress : Via Castelmaraldo 65, 41121 Modena (IT)
Phone : +39 320.3010089        +39 059.8751799
info@fonticolo.com